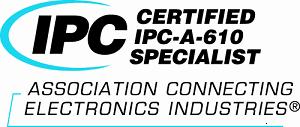 This extensive and comprehensive, industry standard, 3-day class enables selected candidates to develop the skills necessary to understand the appropriate accept/reject criteria for soldered electrical and electronic assemblies. The training includes classroom presentations and examples.
The training includes classroom presentations, examples and instruction from highly experienced Certified IPC Trainers which will enhance the learning experience and student proficiency.
The entire course consists of up to 9 modules – Modules 1 and 2 are prerequisites and Modules 3 through 9 are optional, based on company needs/requirements and revision level of training selected. (Please call us to discuss detailed information.)
This class will enable you to gain the expertise and confidence to effectively earn the title of "Certified IPC Specialists" (CIS).
Students will be required to take a series of open book, multiple choice written proficiency exams and attain a minimum passing grade of 70%.
Revision H Training Topics: (consisting of 7 Modules)
| | |
| --- | --- |
| Module 1 | Definition of Requirements, Terms and Definitions Professional Policies and Procedures |
| Module 2 | Soldering and High Voltage |
| Module 3 | Component Damage and PCB Assemblies |
| Module 4 | Terminal Connections |
| Module 5 | Through-Hole Technology and Jumper Wires |
| Module 6 | Surface Mount Assemblies and Jumper Wires |
| Module 7 | Hardware |
Features and Benefits of Certification
Provides certification to a standardized industry developed and universally recognized, approved and traceable training program.
Certification is a "portable" document and is the property of the certified individual.
The certification is valid for a period of two years.
Training Materials Included
A copy of the IPC A-610 Specification.
An IPC Certificate of Completion.