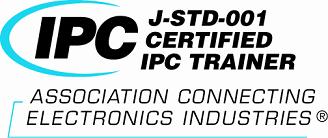 IPC J-STD-001 Space Addendum Certified IPC Trainer (CIT)* (Optional)
This extensive and comprehensive, industry standard, 5-day class enables successful candidates to understand the materials, methods and verification criteria for producing the highest quality soldered interconnections for a broad range of electronic products.
The training includes classroom and "hands-on" workmanship exercises and demonstrations which will enhance the learning experience and trainer proficiency.
This class will enable you to gain the expertise and confidence to effectively train and certify other individuals to become "Certified IPC Specialists" (CIS).
To attain CIT certification the student will be required to achieve a minimum score of 80% on a 2 part written proficient exam. Additionally, the successful student will be required to demonstrate proficiency on the hands-on workmanship project by achieving a minimum score of 80%.
*For the Space Addendum option, the student must hold J-STD-001 Certification. A minimum passing grade of 80% is required for this additional certification.
Features and Benefits of Certification
Provides a standardized set of industry developed and universally recognized, approved and tracable process control procedures.
Certification is a "portable" document and is the property of the certified individual.
The certification is valid for a period of two years.
Training Topics
General Requirements
Applicable Documents
Materials
General Soldering Assembly
Wires and Terminals
Through Hole Soldering
Surface Mount Soldering
Cleaning
PCB Requirements
Conformal Coating and Encapsulation
Product Assurance
Rework/Repair
Certified IPC Trainer Professional Policies and Procedures
Training Materials Included*
A copy of the IPC J-STD-001 Specification.
Electronic access to CIS course visuals and related course materials.
IPC J-STD-001 Workmanship Kit through the my.ipcedge.org dashboard.
An IPC Certificate of Completion.
*A copy of the IPC-J-STD-001 Space Addendum and access to the training material through my.ipcedge.org is included for students completing this certification.